SFRS teams up with RNLI and partners to share life-saving skills with business community
A host of Edinburgh businesses have been empowered to save lives as part of a new approach to water rescue education.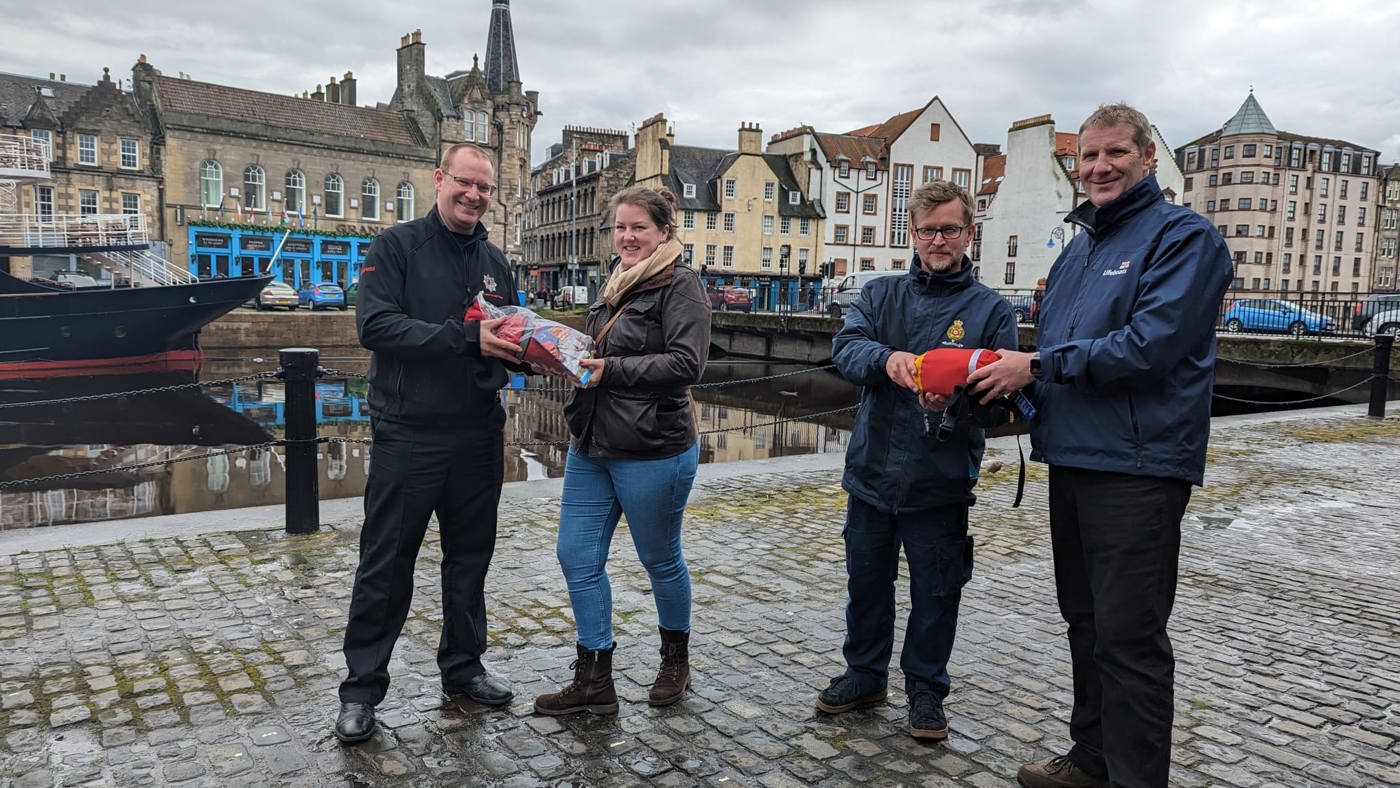 SFRS Local Area Liaison Officer Finn Van Barneveld and Michael Avril from the RNLI hand over new water rescue throw lines to local businesses.
The Scottish Fire and Rescue Service and the Royal National Lifeboat Institution has teamed up to deliver water rescue training to a plethora of partners including Police Scotland, Edinburgh City Council, and the Scottish Ambulance Service.
The training will then be rolled out to a series of businesses based along Edinburgh's Leith Shore, with the aim of giving restaurant and bar workers the confidence to safely intervene in the event of an emergency.
The Waterside Responder Scheme has been introduced in a number of areas across the UK to great success, but this is the first time it has been deployed within Edinburgh.
Targeting businesses in close proximity to rivers or canals, the scheme provides guidance on how to operate a water rescue throwline as well as sharing steps to take in the event of an emergency.
SFRS Local Area Liaison Officer for Edinburgh, Finn Van Barneveld, helped to organise the initiative.
He said: "Providing members of the public with the skills and confidence required to intervene in the event of an emergency has the potential to save lives and support the work of emergency responders.
"We know this training has already been used to save lives in other areas across the UK, where businesses have felt confident to operate emergency throwlines and direct emergency responders to casualties.
"We are therefore delighted to be able to share this life-saving training here in Edinburgh. I would like to take this opportunity to thank our partners and the business community for helping to make this possible."
Zachary Williams is the co-owner of Leith's Williams and Johnson Coffee Co and took part in the training.
He said: "Having a business right on the waterfront means we see plenty of people sitting on the edge of the water, so the potential for someone to fall in is always there.
"The water here is so shallow that people can get stuck in the mud, so having the throwline to be able to pull them out is great."
The SFRS typically sees an increase in water-based emergencies as temperatures increase.
According to Finn, it's essential that people are aware of the risks before entering water.
He said: "It's imperative that people are fully aware of the risks presented by water before jumping in.
"There are all kinds of hidden dangers and cold-water shock can affect even the strongest of swimmers.
"In the event of an emergency, please do not attempt to enter water yourself. Instead, look for the nearest throwline or life-ring to help and call 999 immediately.
"If you do find yourself in trouble, stay calm, float on your back and extend your arms and legs until your breathing returns to normal, and then shout for help or swim to safety."
For more information on the Waterside Responder Scheme, visit https://www.watersafetyscotland.org.uk/practitioners-hub/waterside-responder/
For guidance on how to remain safe in and around water, visit Scottish Fire & Rescue Service: Water Safety (firescotland.gov.uk)