Off-duty firefighter from Perthshire rescues eight from fire
A firefighter from Perthshire has been recognised for his exceptional act of bravery at a national awards ceremony.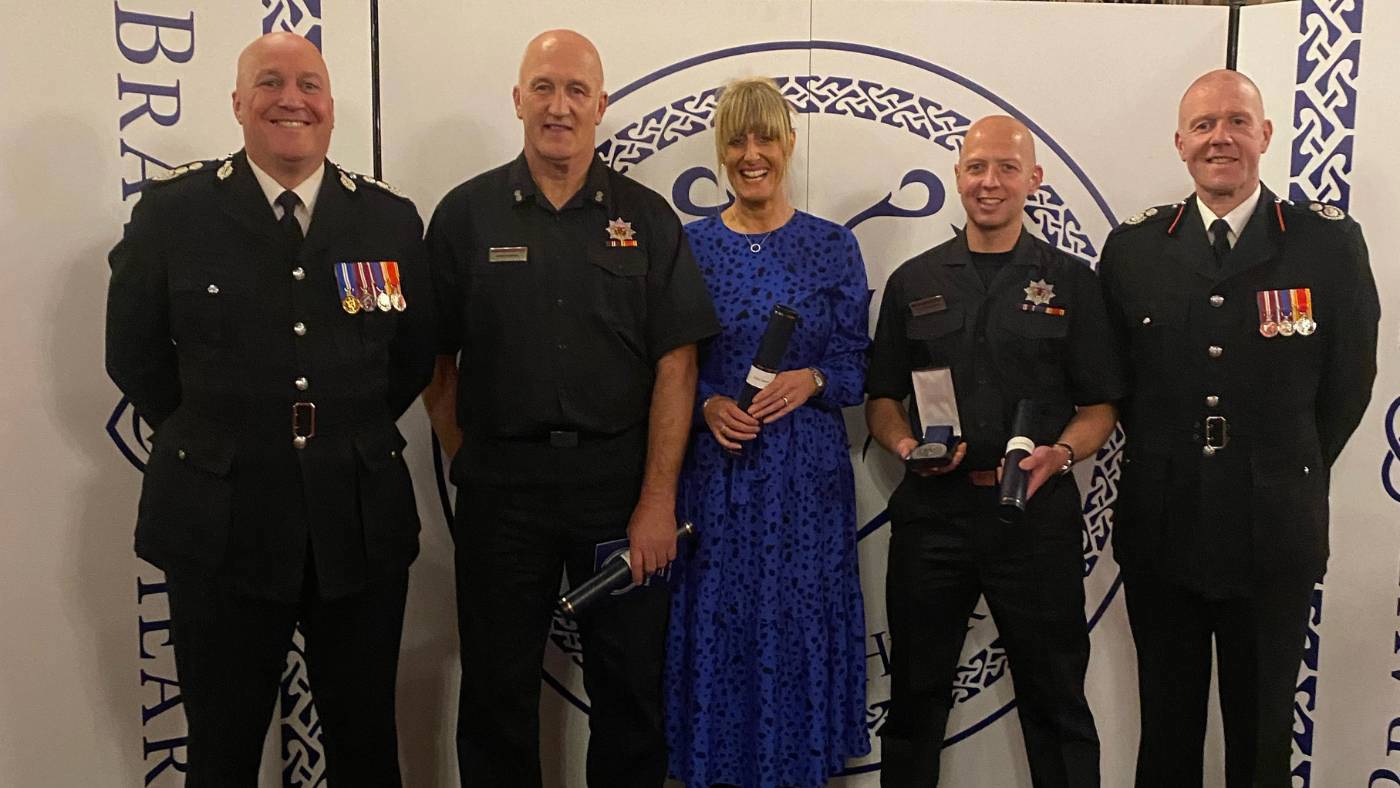 Firefighter Ryan Witkowski, who is part of the White Watch at Perth Community Fire Station, received a Brave@Heart award as well as the St Andrew's Award Medal for his part in rescuing eight people from a fire while he was off-duty.
The event was held at Edinburgh Castle on Tuesday, 3 October.
After receiving the award Ryan said: "It just felt normal to respond because of my role as a firefighter, but it was difficult for my family who were there with me at the time of the incident.
"It was an honour to receive both awards at the ceremony, and was even more special as it was my first time in Edinburgh Castle."
In the early evening of 10 June last year, firefighter Witkowski was returning home to Scone with his wife Michelle and two children, Neve and Ethan, after a sporting event when he passed a road end and noticed smoke issuing from a tenement block.
He went to investigate and discovered a well-developed fire on the top floor of a three-storey tenement building.
Ryan alerted the Scottish Fire and Rescue Service's Operations Control and four fire appliances were mobilised to the scene.
He quickly began to evacuate the building and successfully led eight people to safety ensuring no residents were injured or trapped.
Ryan remained on scene for the duration of the incident and upon the arrival of the first appliance, he gave a detailed handover to the Incident Commander.
Ryan was also recognised previously by the Scottish Fire and Rescue Service's Chief Officer who presented a commendation certificate to him last year.
SFRS Chief Officer Ross Haggart said: "It's without doubt that Ryan's decisive actions on the night, whilst off duty, led to the successful rescue of eight people from the affected flat block.
"His courage and selflessness in helping others has been rightly recognised."
First Minister Humza Yousaf was amongst guests at the awards which is held by the Scottish Government each year to recognise heroism across the emergency services.
Watch Commander John Connell, based at Lauder Community Fire Station, also received an award at the ceremony for providing first aid to passengers who were trapped and injured as the result of a two-car crash.
He said: "I was travelling home from visiting my mother, with my wife Claire, when we discovered there had been an accident. There was no hesitation – we knew we had to help.
"We are no strangers to the Brave@Heart awards, as my daughter Caitlin also received recognition when she alerted emergency services to a minibus which had overturned near Kelso in 2018.
"It was an excellent evening and an honour to receive this award alongside my wife."