Firefighters unite to create a legacy for fallen colleague
A crew of firefighters who completed an emotional journey in honour of their fallen colleague have raised more than £20,000 for charity
The small band of Scottish Fire and Rescue Service (SFRS) firefighters completed the West Highland Way in full firefighting kit and breathing apparatus in memory of Watch Commander Colin Speight, who took his own life in December 2021.
The "Walk with Speighty" team took on the 96-mile trek over the course of five days, walking day and night. Their five-figure haul has now been handed over to chosen causes The Fire Fighters Charity and charity Survivors of Bereavement by Suicide.
Poignantly, the team challenge was completed while carrying Colin's fire service helmet throughout its entirety.
Crew Commander Gordon Nimmo and Firefighter John Ovenstone helped to organise the event in the wake of Colin's tragic passing.
Both men now hope that the efforts of everyone involved have helped to create a lasting legacy for their friend and to have raised awareness of mental health support.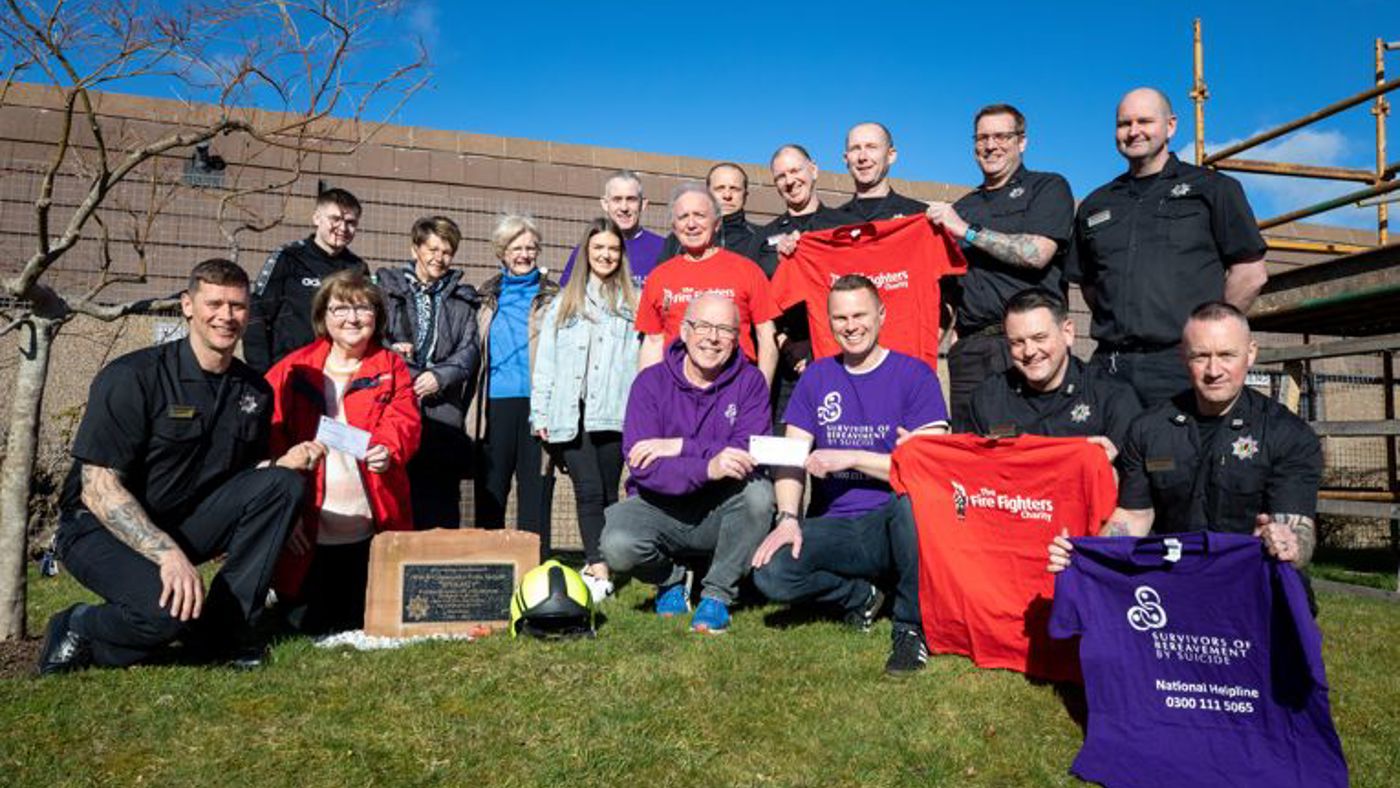 Crew Commander Nimmo reflected: "We've been overwhelmed with the level of support from everyone, we could not have asked for more.
"Everyone involved, the support team who provided us with transport and food, those behind the scenes, we could not have done it without them.
"Hopefully we have been able to raise some awareness around mental health and to make even just one person consider reaching out to ask for support - that would be Colin's legacy."
The team were joined by Colin's stepdad, Bill, for the majority of the journey. Having Bill alongside them, in addition to Colin's helmet, gave the friends an extra boost.
John explained: "Everyone took a turn in carrying Colin's helmet to make sure he was there with us.
"Colin loved Scotland, he loved the hills and the scenery. It was his love for Scotland which gave us the initial idea for the challenge.
"This has been the hardest thing I have ever done, but we did it for Colin - we knew we had to keep putting one foot in front of the other for him.
"It was emotional throughout. When we crossed the finished line, there wasn't a dry eye in the house."
Colin's family helped support the event and have developed a close bond with his former crewmates.
They often visit Glenrothes Fire Station, where Colin was based and where his ashes lie, to share tea and cakes.
The hope now is that more people, particularly men, seek support for any mental health challenges.
John reflected: "No one saw Colin's death coming. He was always laughing and was the biggest joker - you would never have thought he was struggling. 
"There's still a stigma around mental health, but we are a very closely knit team and have supported each other throughout. We know that speaking about your feelings puts you more at peace."
Area Commander Mark Bryce is the SFRS Local Senior Officer for Stirling, Clackmannanshire and Fife.
He said: "There has been an incredible amount of work carried out by everyone involved with the Walk with Speighty challenge.
"And it's not just the financial side of things, it's about that ongoing support - and about inspiring others to maintain and improve their own mental wellbeing. 
"I would like to take this opportunity to pay tribute to everyone involved in raising an incredible amount of money for charity, but for also creating a fitting tribute to Colin, to his family, and to the Walk with Speighty team."
The efforts of the Walk with Speighty team have been welcomed by both charities.
Margaret Barnes, a community fundraiser with The Fire Fighters Charity, said: "I want to wholeheartedly thank everyone involved in this amazing fundraising challenge. 
"We've followed the Walk with Speighty group from the beginning and to see the support they've received ever since has been fantastic.
"The challenge was started as a tribute to Colin, and to see so many of his friends, family and colleagues come together has been incredibly moving. 
"On behalf of everyone at The Fire Fighters Charity, thank you for choosing us to support – every pound you've raised will make a huge difference to so many lives in our fire services community."
John Gibson is a cofacilitator with Survivors of Bereavement By Suicide (SOBS).
He said: "We are so grateful to the Walk with Speighty team for all they have done.
"The funds raised are unbelievably welcome and raise awareness of organisations like SOBS amongst the general population. It is hugely important."
You can find out more about the work of SOBS 
here